Diomira is a parish of Dis, home to princesses, knights, and fae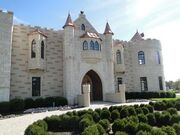 living in palaces and castles. When Diomira was a plane, it was also home to many enemies of the current residents, such as dark elves, but these undesirables were removed by force, and many now inhabit the Ditchwater Slums.
Diomira is the homeland of Kuro, Thistle, Surtur, and Princess Daelwyn.